This Post May Contain Affiliate Links. Please Read Our Disclosure Policy here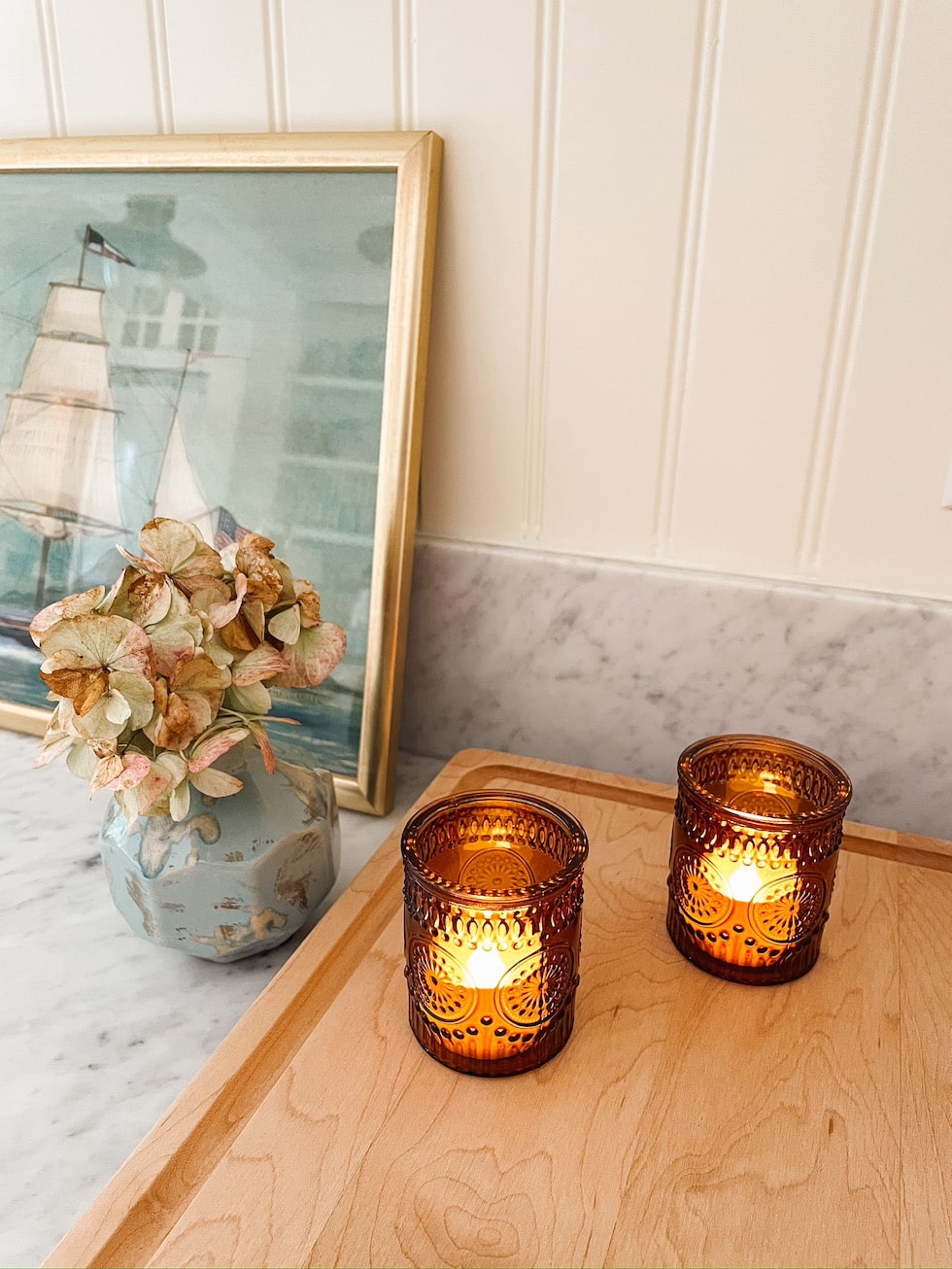 Fall is officially here. As a true HomeBody, I love being at home in the fall. However, it's natural to have some mixed emotions about this season!
For many this seasonal change is hard because as we see the days get shorter and darker, we know that means WINTER is next!
While I love fall here in the Pacific NW, I feel the sense of dread that creeps in as the sun begins to give way to gray clouds and drizzle.
Suddenly I find myself realizing spring is so very very far away.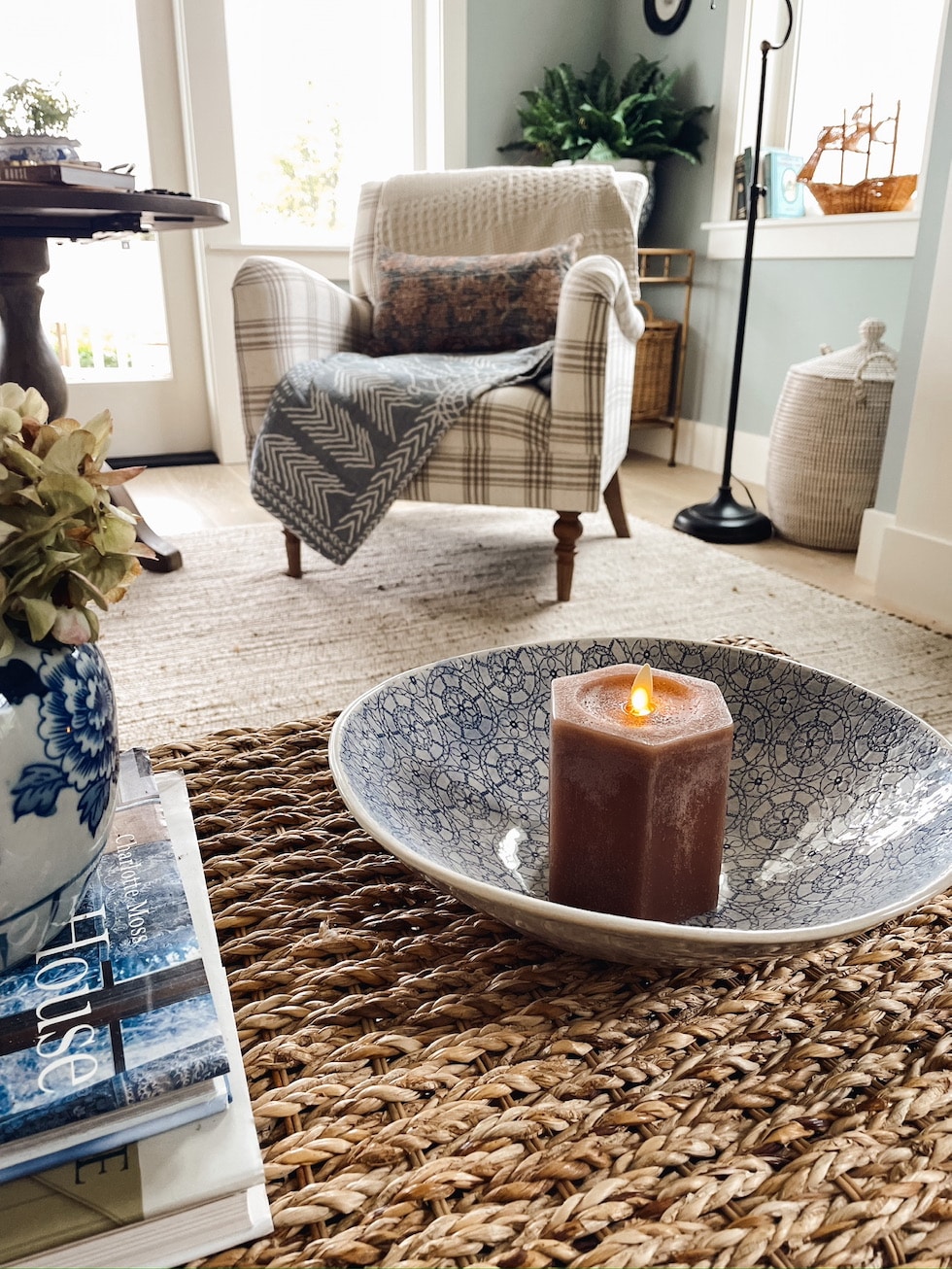 I have many fall and winter rhythms and ways I decorate that bring me comfort in the darker months, there are so many ways to play up the ambience and coziness of our home. They make a difference in how I feel about the fall and winter seasons.
But there is one simple change I make every fall (and have for decades now!) because it always makes an instant and significant impact on my mood.
WE USE CANDLES EVERY SINGLE DAY!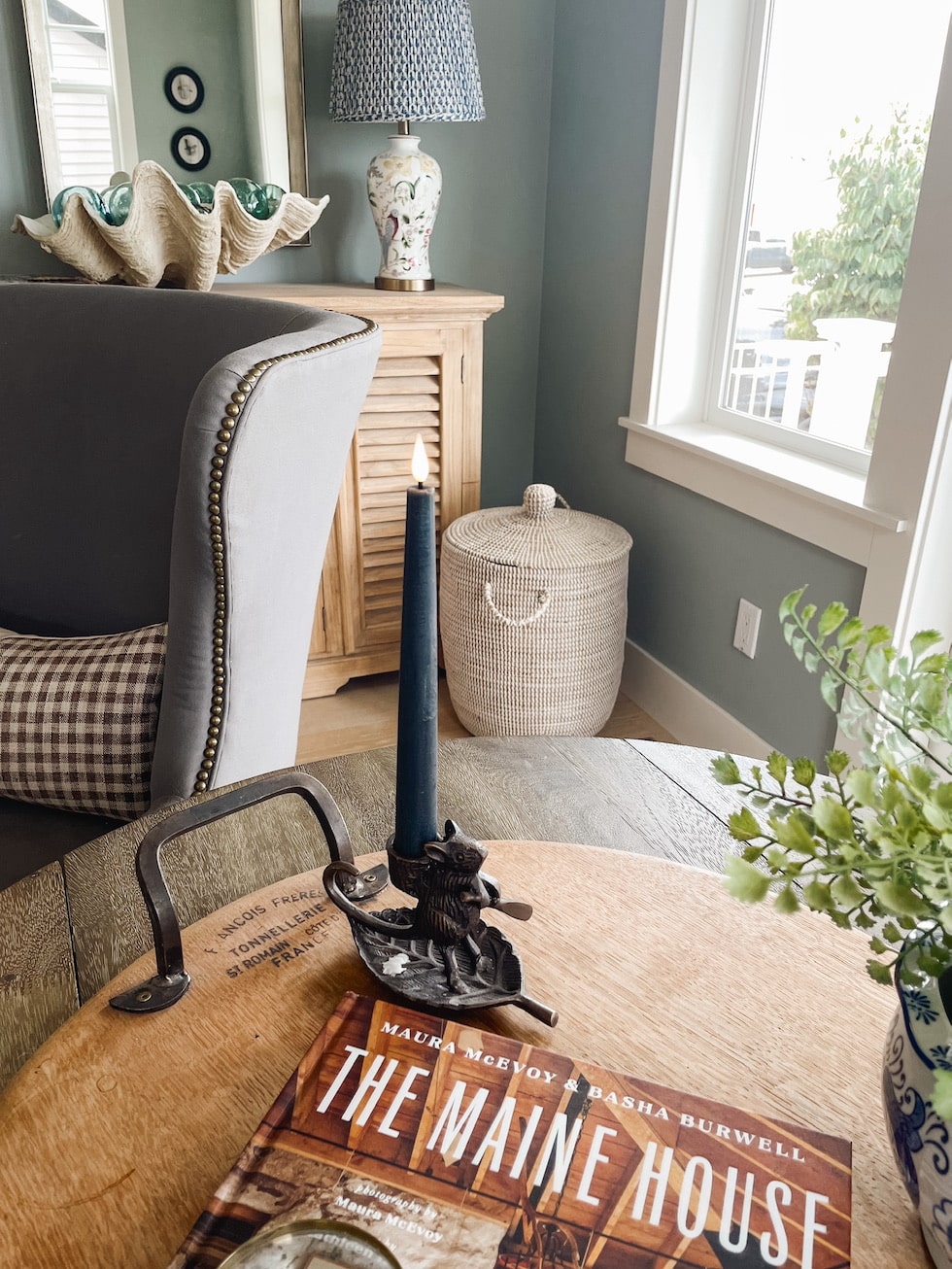 I don't just have candles sitting around for special occasions, I USE THEM EVERY DAY! There are candles EVERYWHERE in my home, particularly the rooms where I spend the most time.
We don't use candles to scent our home. I rarely burn regular candles because I don't want to continually fill the air and my lungs with toxins or risk burning the house down. I used to buy seasonally scented candles all the time, and loved them until I discovered that burning them could have a detrimental impact on my health (I have Hashimotos).
Now we use unscented colored battery operated candles and I use diffusers with pure essential oils to scent the air–these are my favorite fall oils.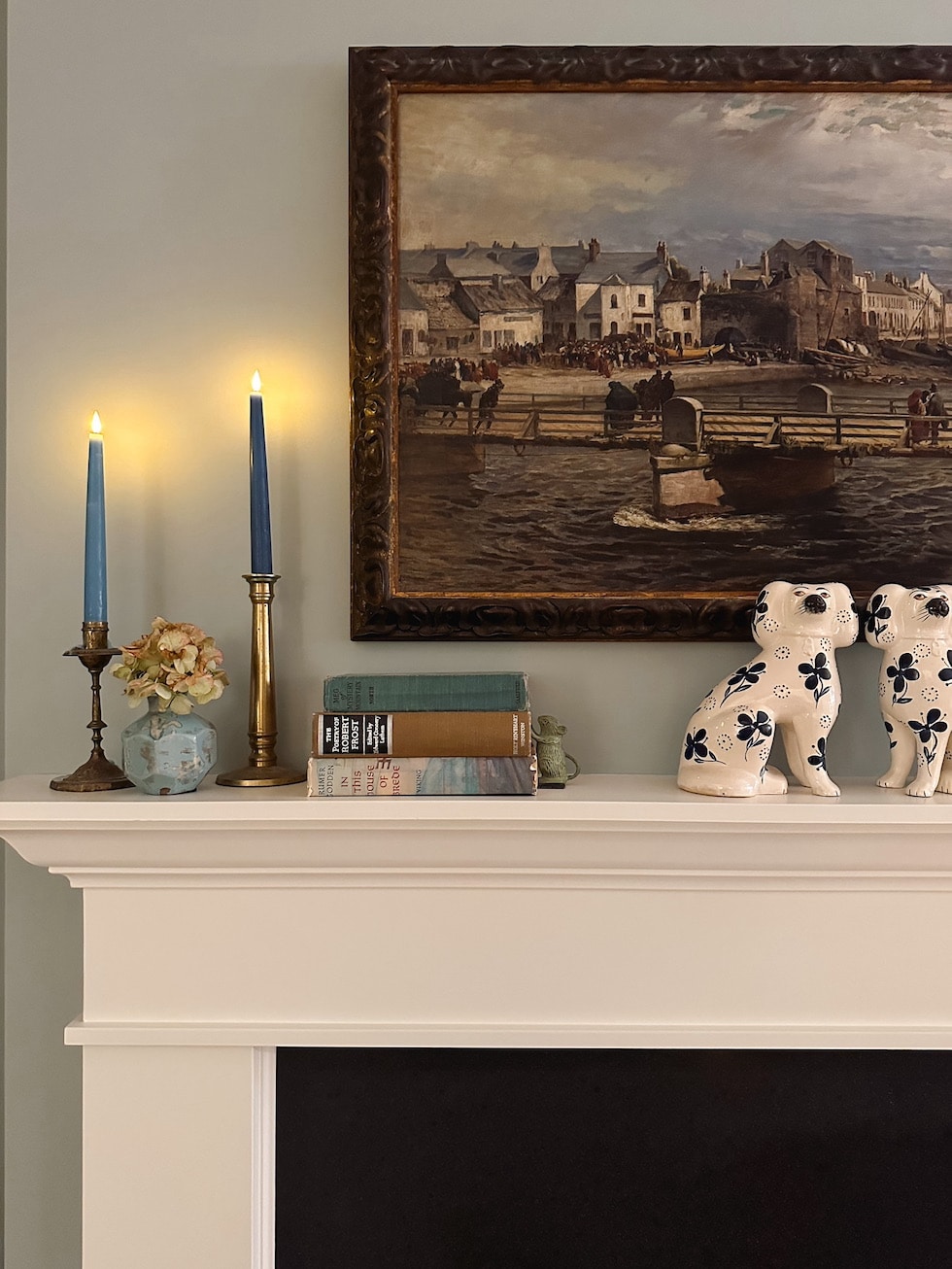 We have already started our daily ritual of turning on my candles and the light around the room transforms the mood from dreary to cozy. Now I look forward to turning on the candles every day to set a mood, rather than feeling sad about the darkness.
Our home doesn't receive as much direct bright light through the windows as we had in our last house, so the candles here make an even more significant impact on how our rooms feel in fall and winter. I place candles in areas where we work in the kitchen, around the room in the living room, or on various shelves and rooms of the house.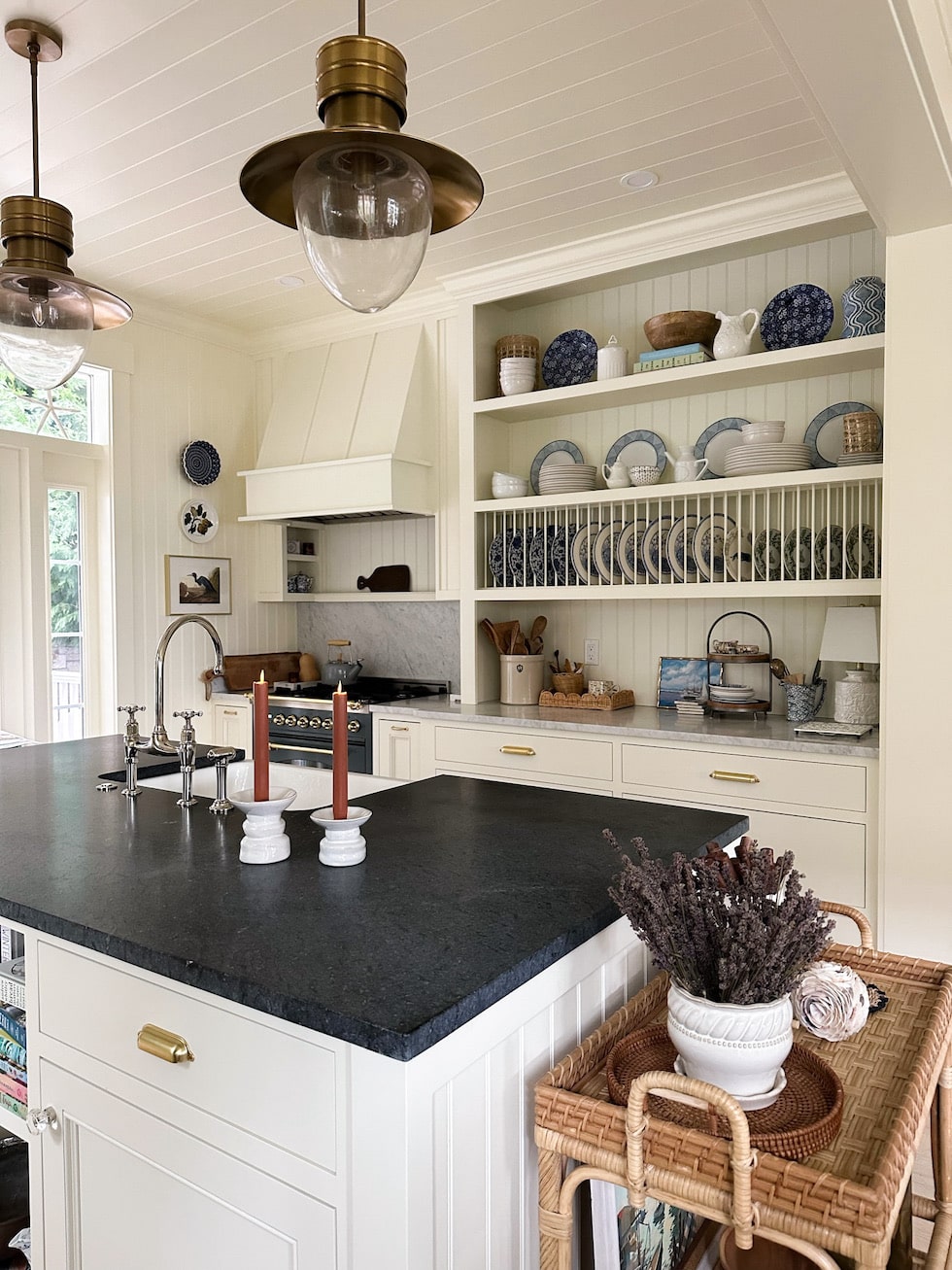 In our previous home we LOVED colored taper candles in our wall sconces. There was no meaning behind the colors, we simply chose them to complement our decor or the season and I loved seeing the color against the white walls.
I will always love the simplicity of creamy white candles, but now I am especially happy with candles in moodier colors that add a new layer to the ambience. Seeing my candles makes me feel happier but also cozier, too. In fact, even my basic white battery operated votives are placed in pretty amber or blue colored glass votive holders so they too add a layer of cozy.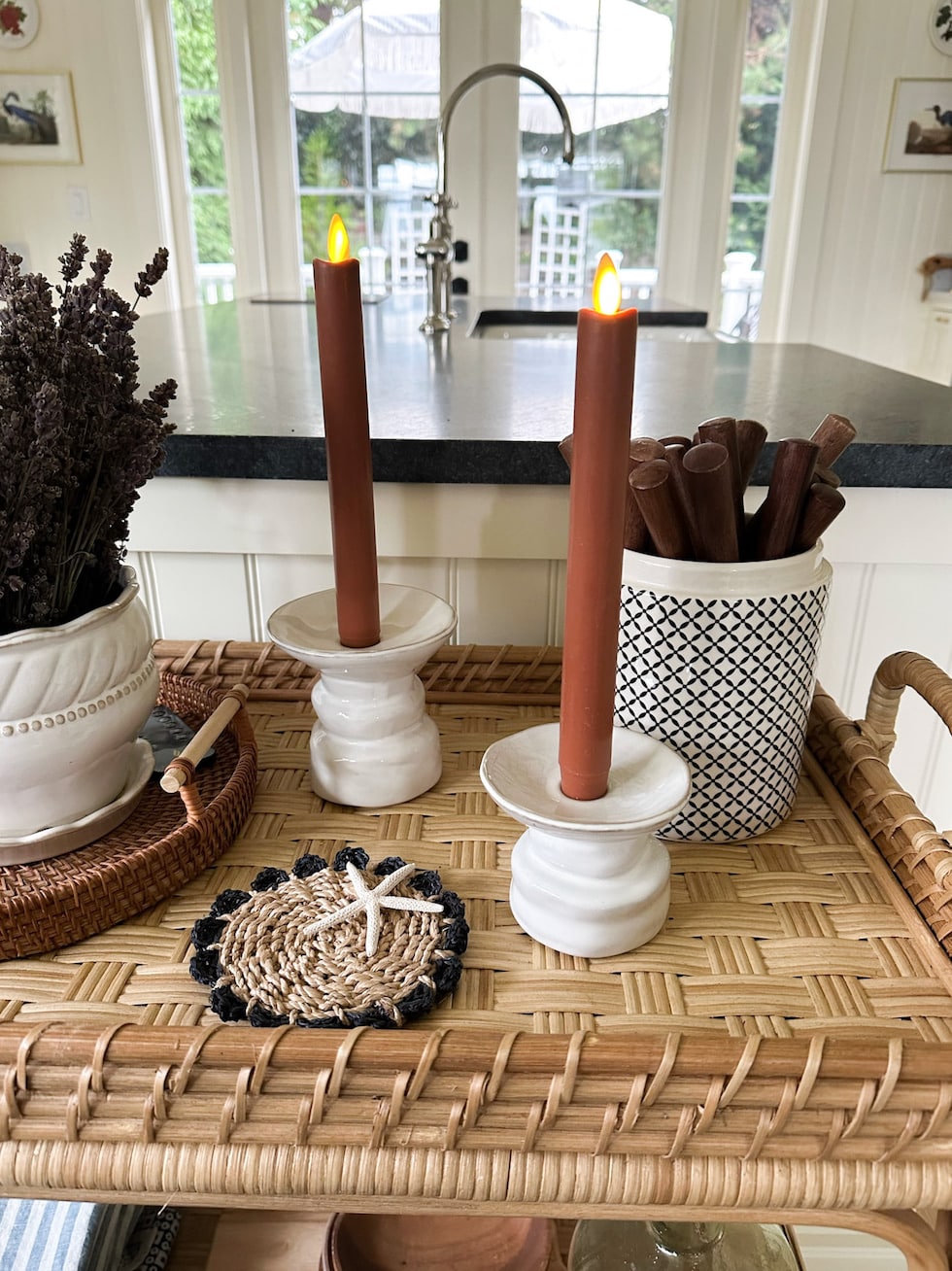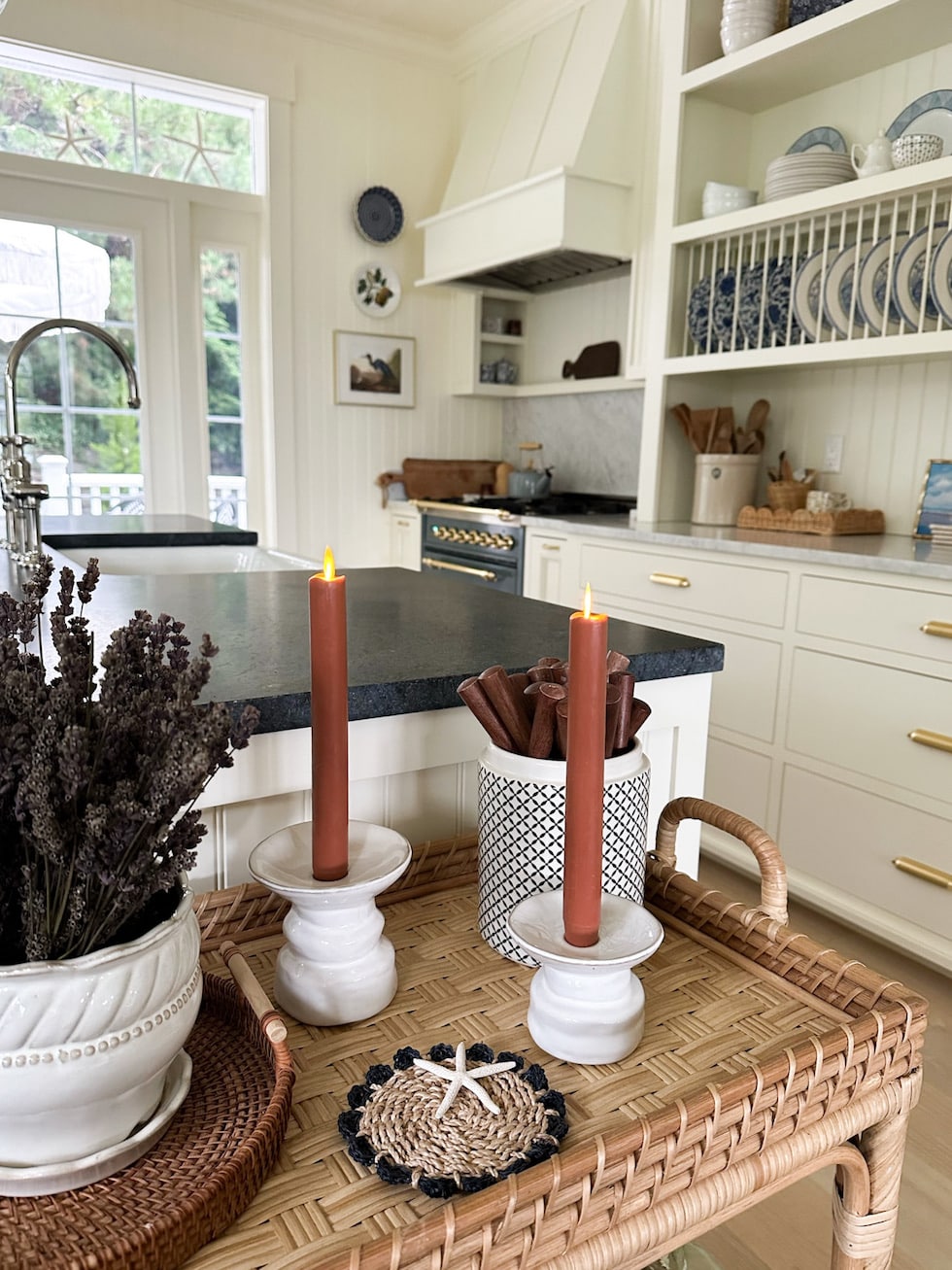 You can find all the sources for my colored battery operated candles, white battery votives, and glass votive holders below (and more recommendations here in this folder!).

Amber Glass Votive Holders
Battery Operated Votive Candles
Blue Battery Operated Taper Candles (set of 3, shades of blue)
Hexagon Battery Operated Pillar Candle (rust color)
Rust Colored Battery Operated Taper Candles (moving flickering wick)
Rattan Serving Cart (see more photos in my home here)
Wall Color: Beach Glass Benjamin Moore
See more posts from my home here.
Find more sources from my home here.